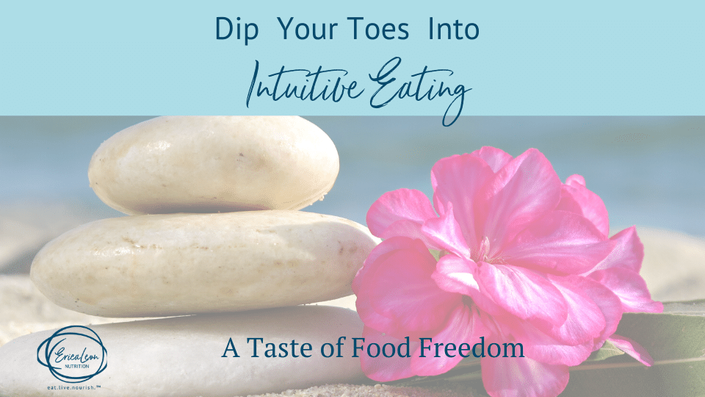 Dip Your Toes into Intuitive Eating
A Taste of Food Freedom
Have you heard the words "Intuitive Eating" but wonder what they really mean?
Have you lost and gained back the same weight over and over again -- and then gained back even more?
Are you looking to develop life long habits of healthy eating, whatever the 'healthy' may mean for you?
If this sounds like you... then you have come to the right place!


If you nodded your head yes to any one of those 3 questions, then you are ready.
You ARE Ready to Dip your Toes into Intuitive Eating and Discover how it can CHANGE your LIFE!
Dip Your Toes into Intuitive Eating will give you a Taste of Food Freedom!

This is a free introductory e-course to give you an idea of what intuitive eating can look like.
You will find a new world of food freedom when you finally let go of diets and diet mentality. Whether you are recovered/recovering from an eating disorder or struggling with yo-yo dieting, you will find the common sense in learning to be "attuned" with your body.
Come and see why diets "don't work" and the damage that diet culture does to all of us.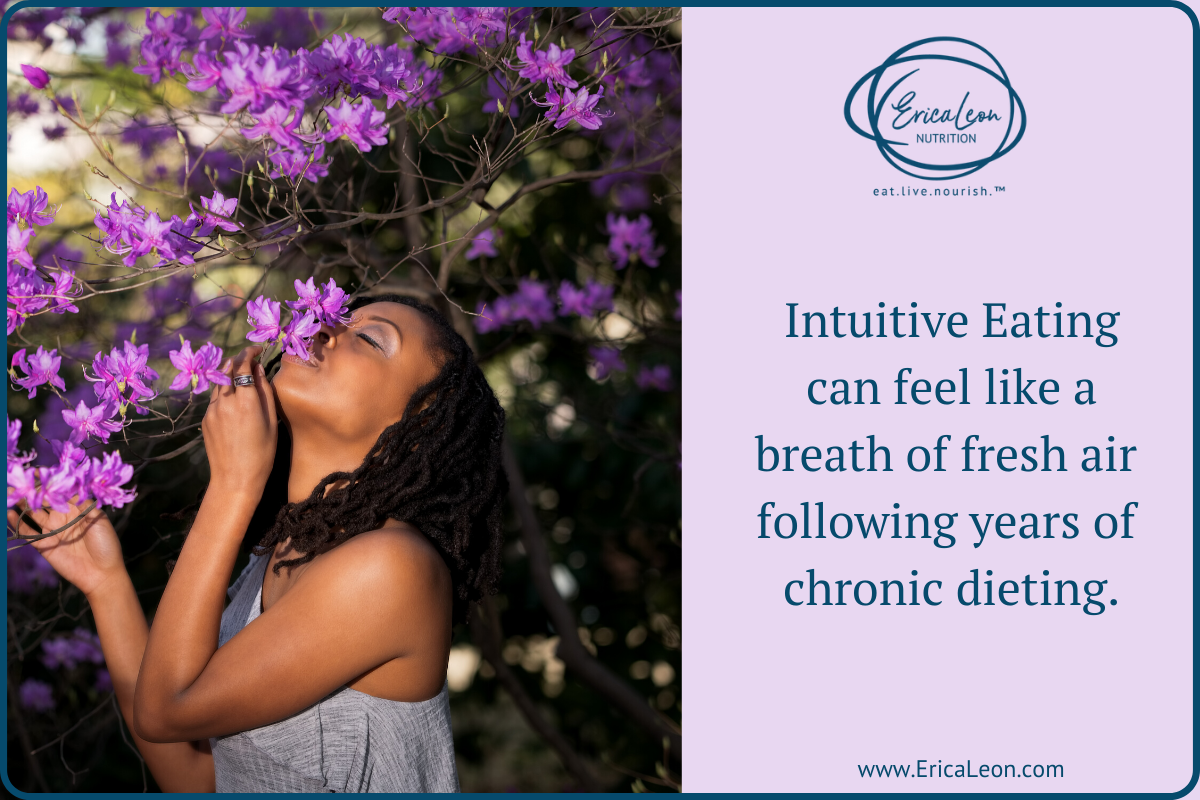 The program consists of four modules that give you a good foundation of what Intuitive Eating is and how it works.
We cover topics such as Why diets don't work, how to get started with Intuitive Eating, and how to discover what mindful eating is.
You will learn how to make peace with food and your food practices as well as tips on understanding hunger, satisfaction and fullness.
Dip your Toes into Intuitive Eating Program Outline:
Module 1: Reject Diets and Embrace Intuitive Eating
Module 2: Make Peace With Food
Module 3: Hunger and Fullness: How Do I Know?
Module 4: Mindfulness: How Can it Help me Make Peace With Food? Next steps!
Are you Ready to Get Started?
You have nothing to lose with this program but your time and you have EVERYTHING to gain by discovering how Intuitive Eating can change your life by changing your outlook on food, eating, diets and more.
My goal is to help you free yourself from chaotic patterns of dieting such as under-eating and/or over-eating —
so you can finally achieve good health. I hope you will consider this complimentary program as the gift it is, and one that could truly change your life... forever.
Yours in Health,

Erica Leon, MS, RDN, CDN, CEDRD
Registered Dietitian Nutritionist And Eating Disorder Specialist
Don't take my word for it. Listen to what others have said ...
I was thinking I was in for a diet of deprivation of foods and rigidity, yet again. But Erica has a way of making sense of how to eat that made me feel so healthy — I DIDN'T EVEN KNOW MY EATING HABITS WERE CHANGING.
I think what makes her even more successful with her clients, is her sensitivity to their needs and the warmth in which she encourages them.

~ S.I., New Rochelle, Westchester
I had always struggled with my weight, but I realized that my attitude and anxiety about food was more of the problem. Erica taught me how to manage planning my meals in a non-stressful way and taught me life skills that I use everyday.
~ Dianna, 17 year old client, Westchester, New York
Your Instructor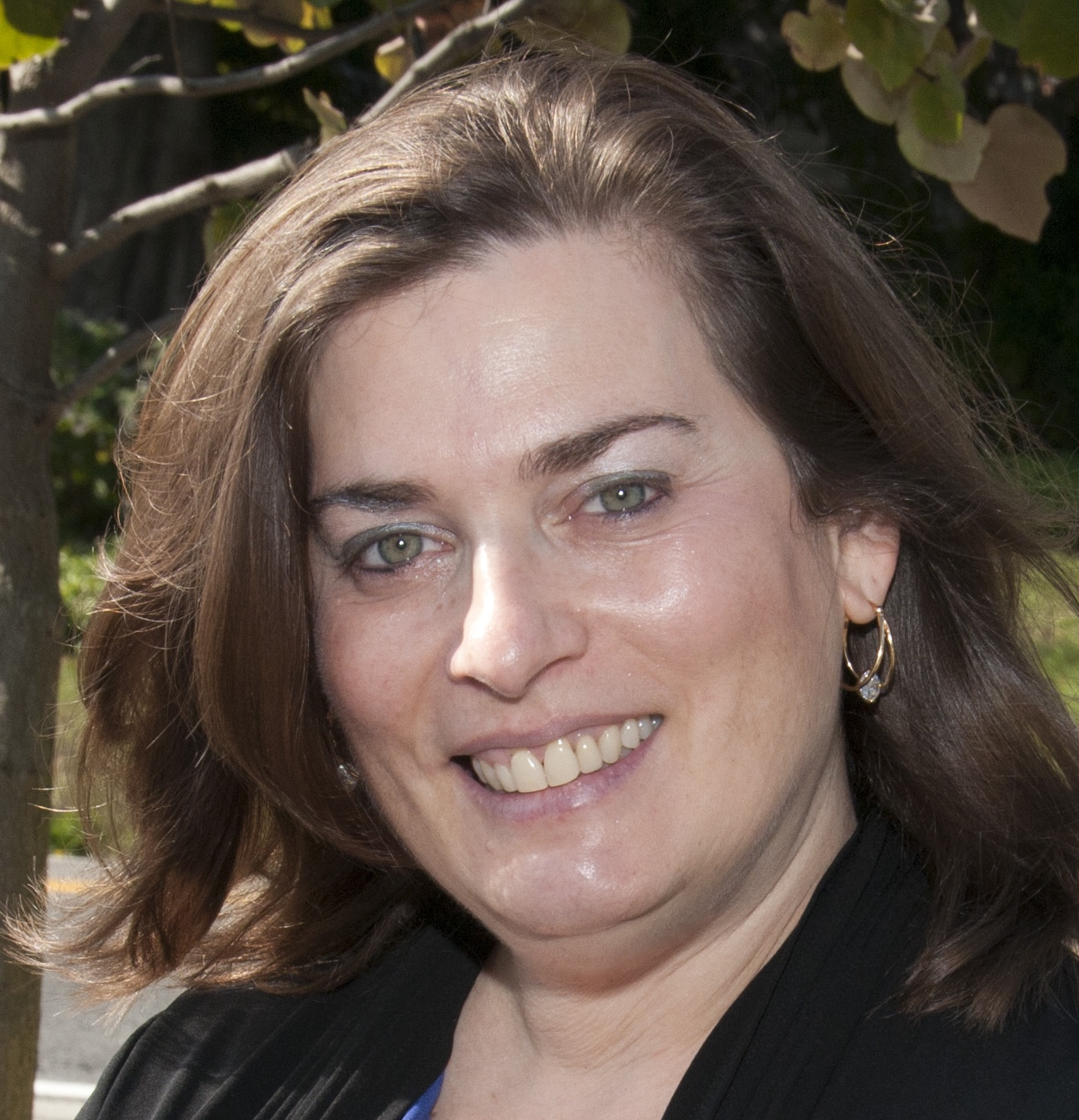 I'm Erica Leon -- a Certified Eating Disorder Dietitian & Certified Intuitive Eating Counselor. I've been in private practice for more than 30 years helping men, women and children feel better in their bodies and with their food intake. I help anyone struggling with an eating disorder or disordered eating, as well as chronic dieters wishing to finally eat in an enjoyable and sustainable way.
I have been on the board of the New York Chapter of iaedp, the International Association of Eating Disorders Professionals and am often quoted in the media on topics related to disordered eating and the non-diet approach. Some of these publications include:

Course Curriculum
Lesson 1: Is Intuitive Eating Right for Me?
Available in days
days after you enroll
Lesson 2: Learning to Listen to Hunger and Fullness
Available in days
days after you enroll
Lesson 3: Make Peace With Food - End the Struggle Now
Available in days
days after you enroll