You CAN Make Peace with Food and Your Body Image ... Forever
Are you tired of dieting, or restricting yourself from eating certain foods because they are 'bad' for you, or you think you can lose weight if you do not eat them?
Do people judge you based on the food you eat?
Are you judging yourself?
Are you looking for help when it comes to your food and body image? But struggling?
ARE YOU READY TO.......
End your struggle with food and body image?

Stop blaming yourself for being hungry and then overeating?

Remove yourself from the emotional and toxic diet culture we live in?

Learn to be at peace with your body?

Achieve an authentic, valued, and healthy life?

The Eat Live Nourish™ Support Circle is here to help you!
Replace those struggles with a way to help you heal from chronic dieting (or chaotic eating patterns of restriction, binge and emotional eating) and practice compassionate self-care through Intuitive Eating. With a way to ensure these habits and thoughts stay with you always.
Intuitive Eating is all about making peace with food, and your body. Behind this concept is the phrase – Health at Every Size ® (HAES).
HAES is a movement that promotes well-being and healthy habits over any number on the scale. Health at Every Size ® values size diversity and acceptance, trusting internal cues of hunger and fullness and creating healthy lifestyle habits.
Eat Live Nourish™ Support Circle is a women's only group support program, designed to offer members a place to get guidance, training, AND LIVE Support from a Dietitian who specializes in Eating Disorders.
Erica Leon offers a self-paced program that explores your relationship with food, your dieting history, readiness to integrate intuitive eating into your life, and details on making peace with food.
Along with all the training, videos, resources, handouts you get time every month with Erica! The Support Circle group connects three (3) times each month with Erica:
Once a Month 60-minute Group Support Call

Once a Month 30-minute Training Class

Once a Month Body Image Training Class
Membership in the Eat Live Nourish™ Support Circle will help you stay connected to people going through the same struggles and give you Access to a Professional who will guide you on your journey - and all for a fraction of the price of one-one Nutrition Counseling.
IMAGINE BEING ABLE TO.......
Listen to your body's true needs & finding creative ways to provide them

Live your life from a place of self- acceptance & compassion

Eat all foods without guilt or judgement
Membership in the Eat Live Nourish™ Support Circle will offer you a variety of ways to get the support you need to learn to make Peace with your Food and Body Image.
You will see changes in yourself like:

Being able to enjoy all foods with satisfaction, rather than guilt
Feel happier and healthier
Recognize that you are so much more than the shape and size of your body.
Pay only $67 a month or save even more and pay $650 per year.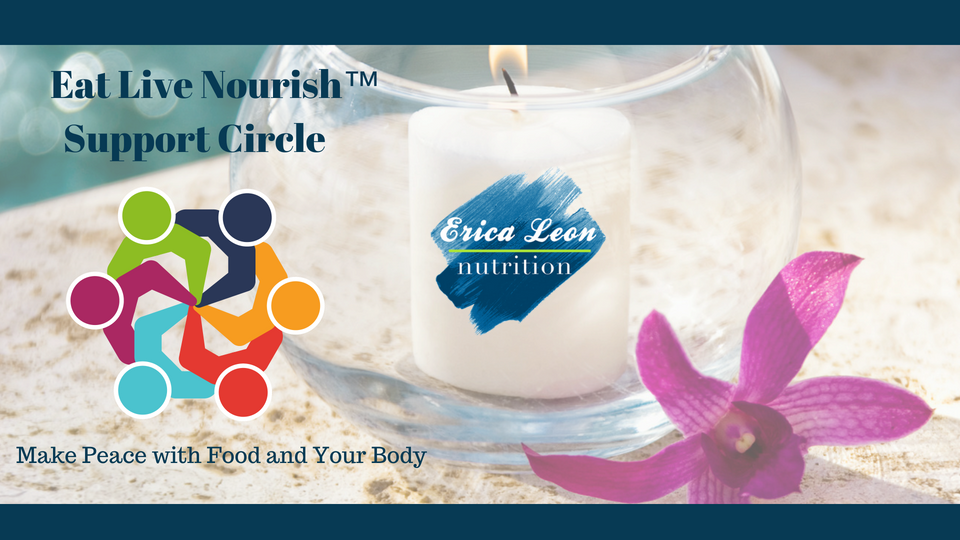 The Eat Live Nourish™ Support Circle Group Membership program includes:
• E-books, handouts, resources to help you
• Access to our Dip Your Toes into Intuitive Eating Program
• Private Facebook Support Circle Community for networking and peer support
• Intuitive Eating Essentials Full Self-study Program
PLUS

Once a Month 60-minute Group Support Call

Once a Month 30-minute Training Class

Once a Month Body Image Training Class
Regular Program Fees: $67/month or $650/year