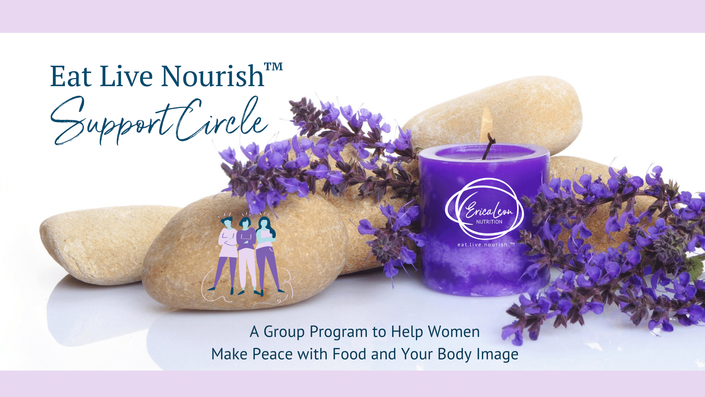 You CAN Make Peace with Food and Your Body Image ... Forever, with my help.
This program is ideal for women who are in midlife, menopause and beyond and have gone through the Intuitive Eating Essentials program with Erica. The support and training are built on concepts found in the groundbreaking book, Intuitive Eating and the NEW Intuitive Eating Workbook, by Evelyn Tribole, MS, RDN and Elyse Resch, MS, RDN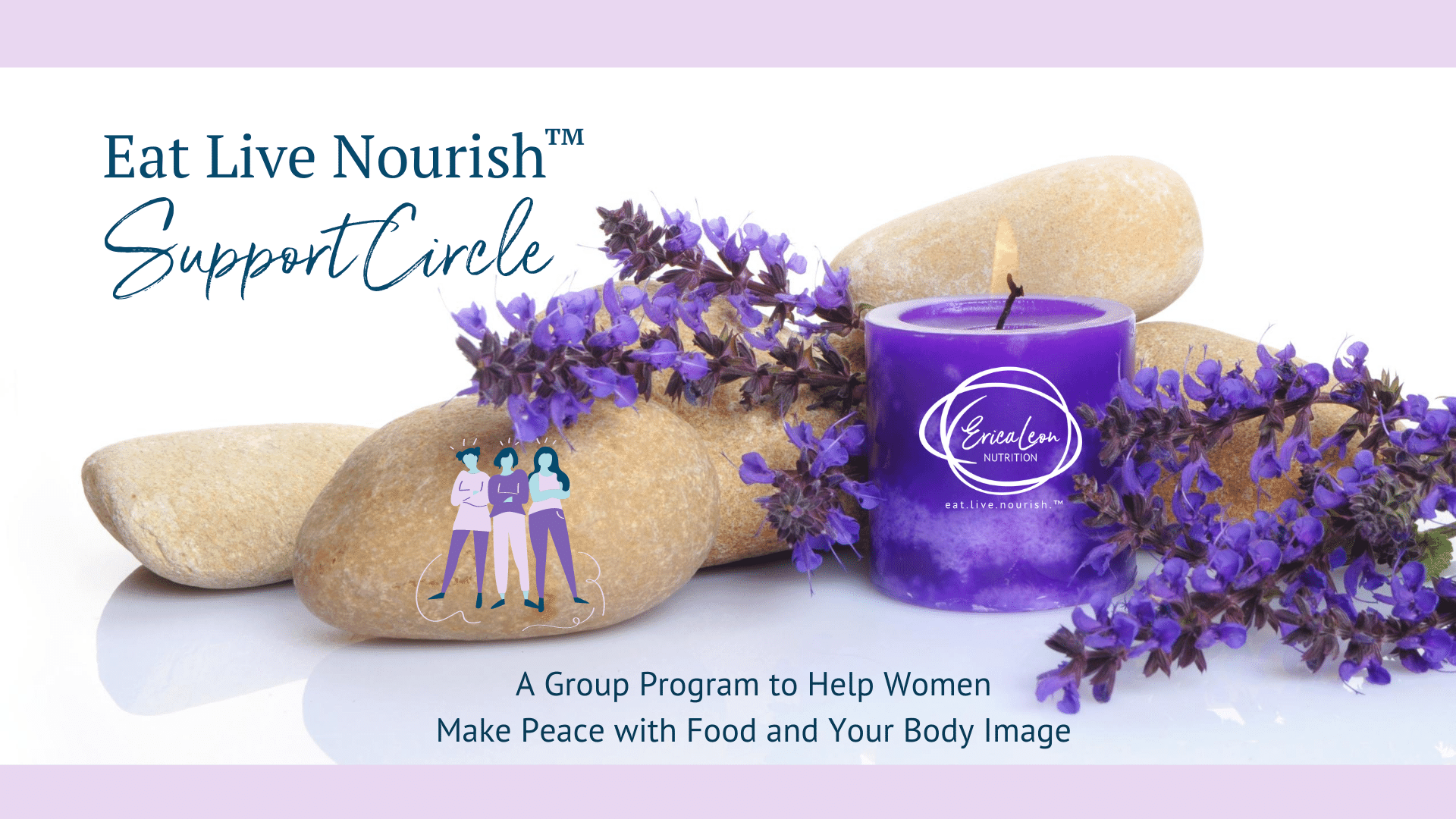 Your 3-Month membership in the Support Circle includes:
Community Support via a Private Facebook Community with people just like you -- working to embrace a life free from diets, weight worries, and body shame. We will journey together in finding food peace while challenging our assumptions of "normal" eating, "healthy" body weights, and understanding our truest values.
Access to the Intuitive Eating Essentials Curriculum.
Bonus Resources in the way of worksheets, checklists and handouts
Two Group Support Calls each month with Erica on Thursdays from 7:00pm to 8:00pm
Special Masterclasses held on various topics relative to Intuitive Eating
Special Meal Planning option to help you plan meals that work for you and your family
Additional one-on-one nutrition counseling sessions can be arranged as needed as part of packages at a special student only rate.

Please note participants in this program must be preapproved by Erica, please reach out to Erica and book a quick call to talk if you have not done so already.
Recognizing the many systemic factors that have led to wealth disparity in our society, we want to offer equity pricing if you are BIPOC. Please contact Erica directly to discuss your individual situation: [email protected].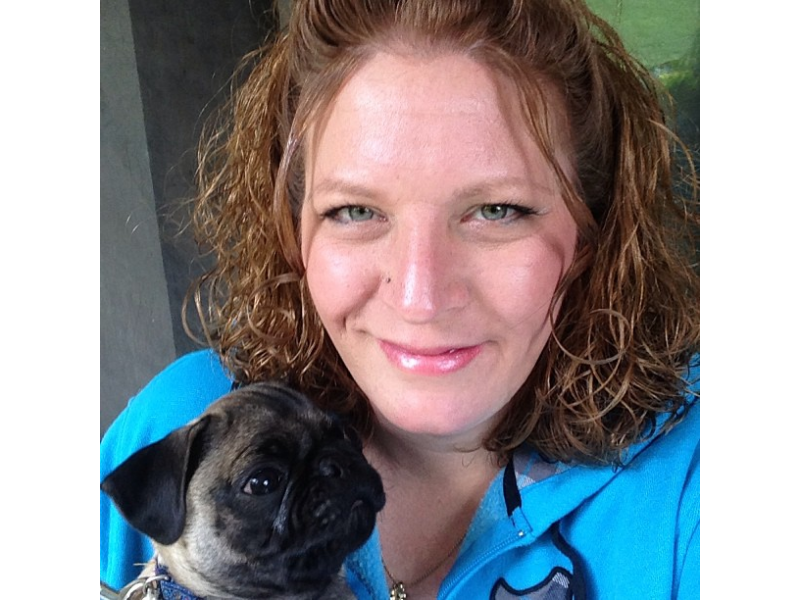 "Learning the skills and mindset of Intuitive Eating with Erica Leon has been truly a transformative experience. I'd been in the diet-cycle for most of my life and had no idea how damaging it had become. I'd developed a set of rules, low self-esteem, and guilt for not having the discipline to "fix" this aspect of my life. Through this journey, Erica, the guest speakers, and the other women in this e-course-turned-family and support group have helped me see the world through fresh eyes and being to reclaim ownership over my body and my nutrition."
I came to Erica expecting that she'd help me find solutions, boundaries and an expectation for what nutrition should be, instead I found comfort, healing and a whole new approach to living. This is the best decision I've ever made."
Current Client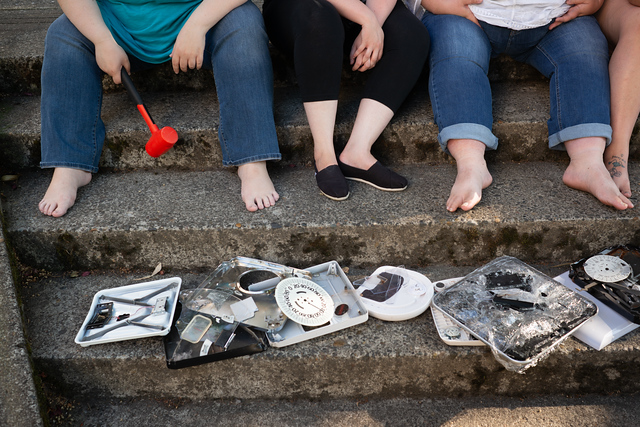 "On national Registered Dietician/ nutritionist day I just want to recognize the amazing woman, Erica Leon, RD, who started this program. I am lucky enough to see her in person weekly and she always makes me smile and feel confident in my progress through this Intuitive Eating journey. Every day I wake up and eat what my body feels like, and I'm not afraid of food anymore. It doesn't have the power to ruin my day or my body. It's just food. I feel so much more free now that I don't have to count and obsess anymore. What a gift intuitive eating has been for me. Of course I have my struggles too, but I know this is a better life than one spent on a diet. Erica has helped me in more ways than I can possibly describe. Erica, you are a treasure!"
- Current Client
Your Instructor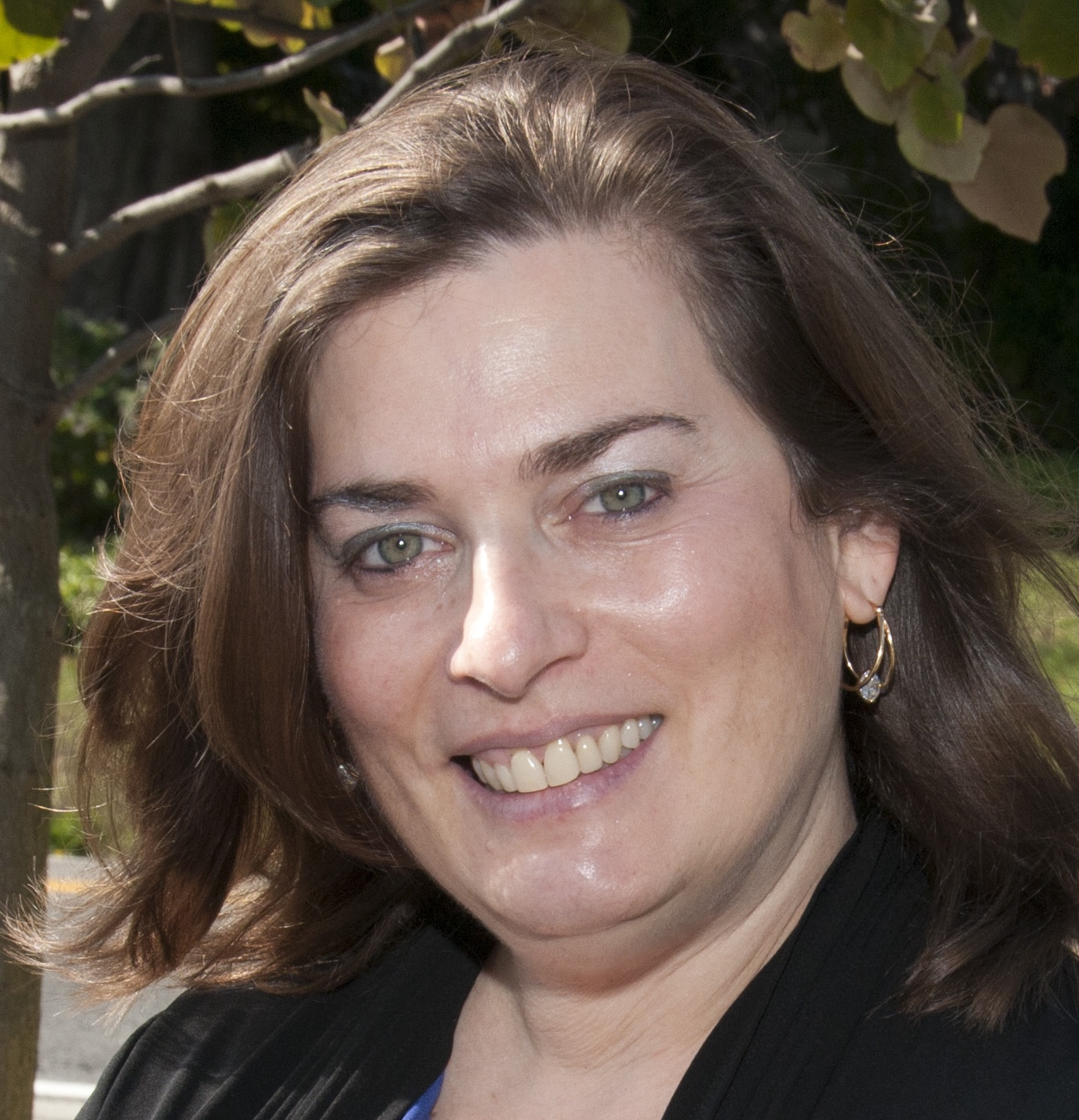 I'm Erica Leon -- a Certified Eating Disorder Dietitian & Certified Intuitive Eating Counselor. I've been in private practice for more than 30 years helping men, women and children feel better in their bodies and with their food intake. I help anyone struggling with an eating disorder or disordered eating, as well as chronic dieters wishing to finally eat in an enjoyable and sustainable way.
I have been on the board of the New York Chapter of iaedp, the International Association of Eating Disorders Professionals and am often quoted in the media on topics related to disordered eating and the non-diet approach. Some of these publications include: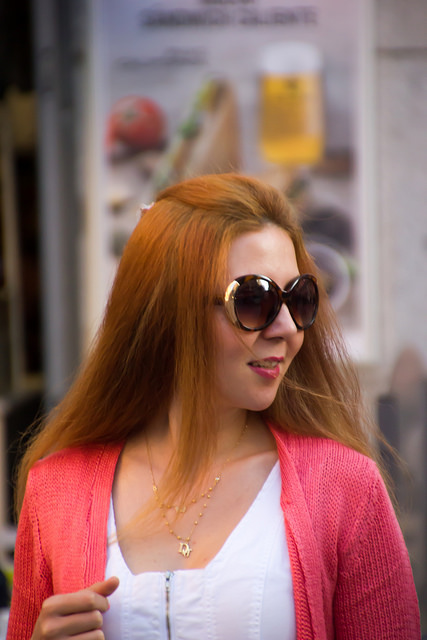 " I have done many diets and spent most of my life struggling with my weight. After meeting Erica and now working with her both individually and in her group program, I quickly realized that this was something different, this was something I can manage and do for the rest of my life. Intuitive eating is not a diet -- it is just paying attention to food and listening to my body, I have not done for years. At times, it has been a struggle to be an intuitive eater but I have seen so many changes in myself. I no longer use the scale as a measure of my self-worth and I eat what I like! I eat without guilt and have started to enjoy food again. I owe much of my success to the support and encouragement I have received from Erica. She is amazing! Thanks again!"
Current Client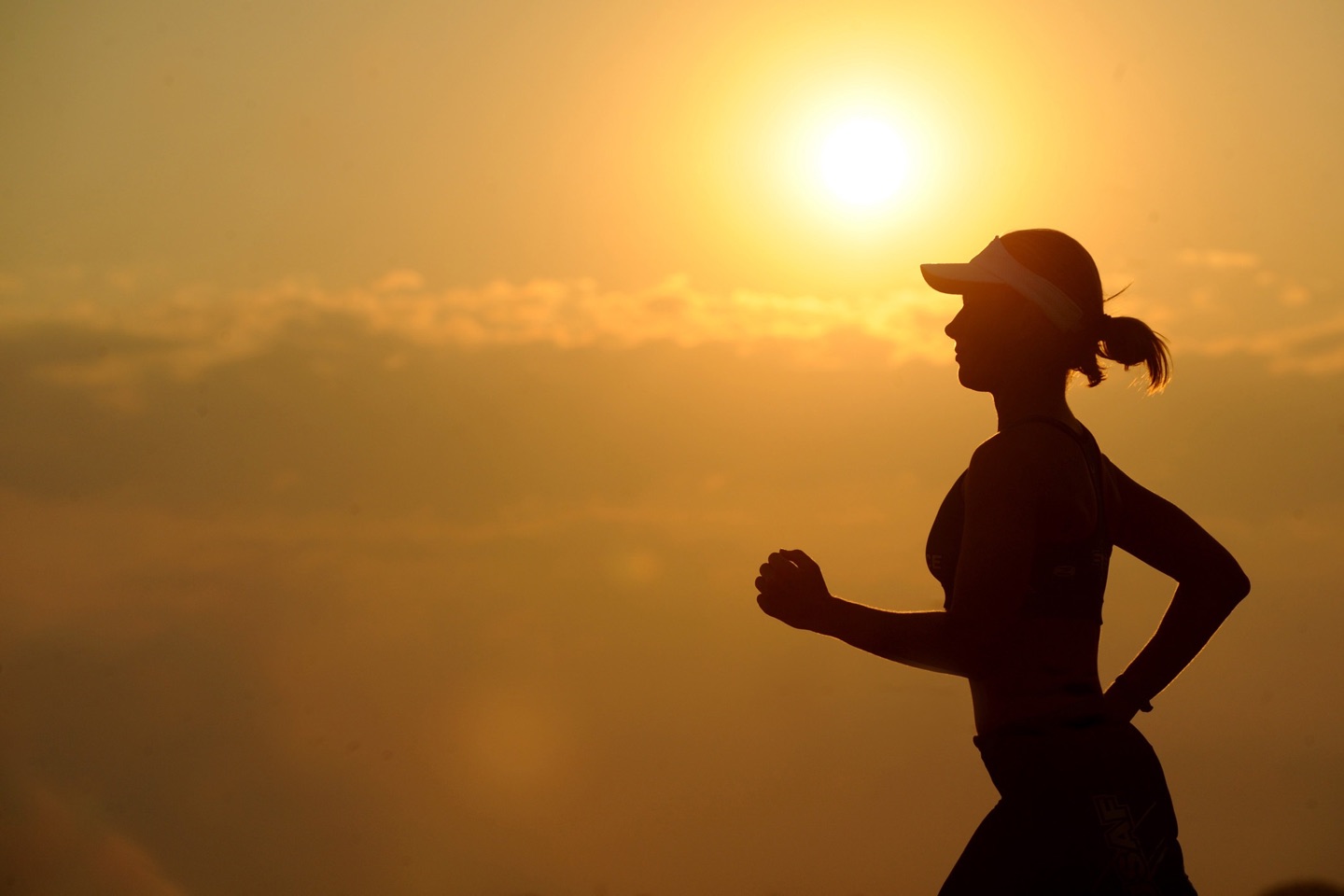 "Working with Erica in her online intuitive eating group has redefined my perception of health and nutrition. As an aspiring Registered Dietitian, this course has been incredibly influential in my outlook on food and wellness and will undoubtedly shape my future career.
Learning the principles of intuitive eating has helped me reflect on my eating and exercise habits. Although I would not consider myself a "dieter", this course identified areas of improvement and allowed me let go of food restrictions and disordered eating habits.
Erica is such a kind, understanding and compassionate mentor and leader. She facilitates fruitful discussion and includes guest speakers who are experts in other fields that help debunk diet culture. This course has helped shift my focus away from calories, weight, workouts and meal plans and has encouraged me to engage in life without unnecessary stress caused by preoccupation with food and exercise.
Thank you, Erica!"
Frequently Asked Questions
What if I am unhappy with the course?
We would never want you to be unhappy! While there are no refunds on this group membership, you can cancel at any time. Please contact us at
[email protected]
and we will cancel your future payments. Note: Semi-annual fee payment gives you full access immediately and as such you can cancel, but there are no refunds.
Can I join this group if I have an eating disorder?
If you are currently struggling with an eating disorder, this may not be the right place for you! Intuitive eating is appropriate for someone who has recovered from an eating disorder or who has struggled with chronic dieting.
Who is this group for?
This group is for middle-aged women who struggle with emotional eating and are looking to make peace with food and their bodies. If you are unsure this might be the program for you, please reach out to Erica and book a quick call to talk.